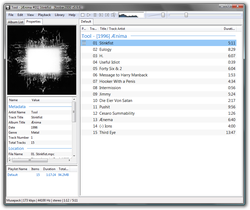 Using a computer with low specs it sometimes feels cumbersome, especially for the time being most of the software applies an attractive GUI but deplete memory, not only from the view, from a completely software features contribute to slow computer performance, it is also my experience on my work computer, with a specification that is somewhat mediocre Intel(R) Pentium(R) 4 1.8 Ghz, Memory RAM766 MB and installed Windows XP, Microsoft Office 2007, and some other additional programs, to play the music I use Winamp latest version (always my updates) feels very heavy in the start-up process and the operational process, not to mention I run Microsoft Excel, Computer was carrying the load exceeds capacity.

Another alternative that I tried to find another music player is lightweight but not compromising the main features and quality of Winamp. Finally I discovered Foobar2000, this application is fairly light but very easy to use and of course the main feature as a music player can still be relied upon.
A Music Player that is unique and interesting, and of course Free
I am now using the Music Player has reached version Stable v.1.1.1
The main features of
Foobar2000 :
Supported audio formats: MP3, MP4, AAC, CD Audio, WMA, Vorbis, FLAC, WavPack, WAV, AIFF, Musepack, Speex, AU, SND... and more with additional components.
Gapless playback.

Full unicode support.

Advanced tagging capabilities.
Support for ripping Audio CDs as well as transcoding all supported audio formats using the Converter component.
Full ReplayGain support.

Customizable keyboard shortcuts.

Open component architecture allowing third-party developers to extend functionality of the player.